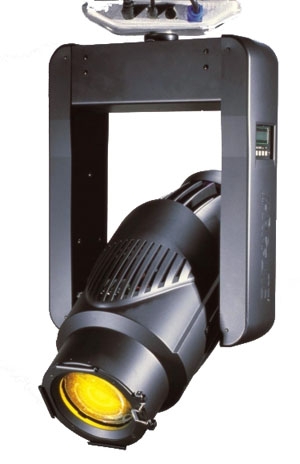 Vari-Lite VL1100 TSD Tungsten/Dimmer
Details
Description
The Vari-Lite VL1100 TSD (Tungsten, ERS w/Dimmer) features a 50 kHz drive system that quiets the operation of all two phase motors in the fixtures during movement and while in static positions. This fixture includes CYM color mixing, rotating gobos, an integral dimmer and variable diffusion.
Included with your Vari-Lite VL1100 TSD Tungsten/Dimmer Rental:
Safety Cable
Powercon to Edison Male 6' Power Cable
Mega Claw Clamps
Shutter Bulkhead
Roadcase
We strive to provide impeccably maintained rental equipment for the entertainment industry that is prepped and ready for your event. Our experienced staff stands ready to help you with your lighting, video, and rigging needs. You will receive a rental quote back within 1 business day.
Downloads
Features
Zoom Optics: Continuously variable field angle in imaging range from 19 to 36, super zoom angles to 70 is programmable over a timed range of 2 seconds to 20 minutes.
Color Mixing System: A fully cross-fading CYM color system. All motors utilize a noise reducing, 50kHz. drive system that quiets operation during movement and also while static.
Diffusion: Field or gobo can be continuously and smoothly diffused to wash.
Dimmer: Integral, silent IGBT electronic dimmer.
Rotating Gobo Wheel: Six position rotating gobo wheel with a central bearing system, five rotatable and indexable gobo positions plus open. (Patterns are not included with the fixture.)
Shutter (Framing Models): Four-blade system can frame and crop beam field and gobos. Each individual shutter is capable of translating to beam center while also rotating 35. Entire shutter rotates 45.
Beam Size Control (Iris Models): In addition to the zoom optics, a mechanical iris provides continuous beam size control for both rapid
changes and smooth timed beam angle changes.
Pan and Tilt: Smooth, timed continuous motion using three phase, ultra quiet stepper motors with encoder correction.
Buy it Used

Thinking of purchasing rather than renting? UsedLighting.com is a division of 4Wall Entertainment that provides a safe place for buying, selling, and brokering quality used stage lighting equipment. The site carries technician maintained inventory sold directly from 4Wall rental stock that includes unparalleled warranties and customer service.