About Us
Press Center
4Wall Las Vegas Ignites Seacret Direct Event
By on Nov 23, 2015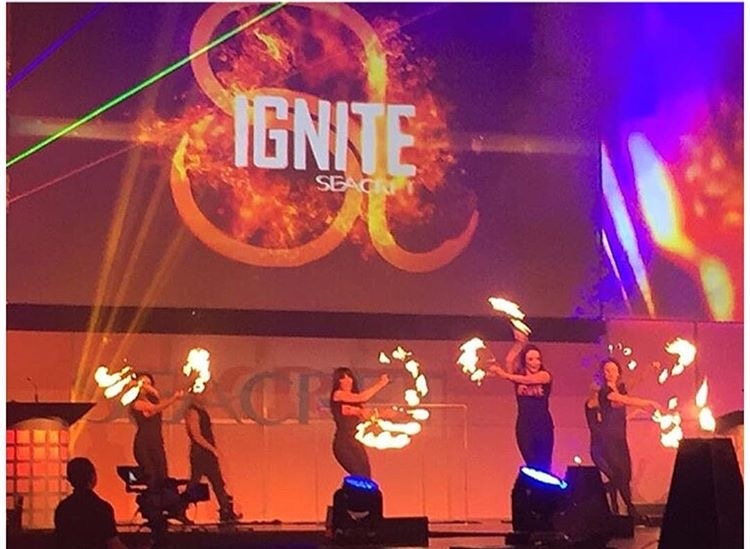 Phoenix, AZ- In 2005, Seacret began selling their skin care products all over the country. 10 years later they've created a powerful community worldwide that offers growth opportunity to everyone. Seacret Ignite, an anticipated convention for the company, took place on September 17, 2015 in downtown Phoenix at the Convention Center. Looking forward to an exciting and eventful evening, Seacret turned to 4Wall to 'ignite' the stage and take the event to another level.
Chris Hammond, who was the Lighting Designer for the event, was brought on board by Vx3, a full service staging company. As both the LD and Programmer, Hammond met the client's goal of creating exciting moments by integrating lighting, haze, pyro and more. "They like to pump up the audience and get them excited about the products Seacret is selling," says Hammond.
The set had a large foot print and was mainly white panels of fabric in different configurations. Hammond described the set as very' much a base canvas' that required lighting to bring it to life, and as such Hammond chose versatile lights to fill the design which helped meet Seacret's needs.
Turning to 4Wall Las Vegas for his lighting package Hammond decided to use an all automated rig which helped save time on focus during the install with lifts and crew. Hammond chose to go with the Viper DX Wash as the main stage wash fixture with the ability to transition from light to light while spreading across the stage. "During the performance numbers the DX gave me the option to move away from good flesh tones for video to a more theatrical look," said Hammond. "It also gives you a soft edge with ability to shutter in the top and bottom."
Part of the package was also the MAC Auras which were used for back lighting and general color for beams to add depth to the rig. Viper Performances were mainly used to texturize the set. To wash the set from ground up he decided to go with Chroma Q Color Force LEDs.
In addition to the lighting package, "I chose to use Sharpys throughout the rig due to all the performance numbers and the energy Seacret wanted out of effects," said Hammond. Finally, while working with lasers, pyro and flames he wanted to make sure he had fixtures in the rig with enough punch to cut through noise.
With a successful event concluded Hammond complimented 4Wall, ""I am always grateful to use 4Wall because I know the gear will be in great like new condition and customer service and pricing are always on the mark!"