About Us
Press Center
4Wall Nashville and LD Taylor Price Light Dan + Shay
By on Nov 1, 2015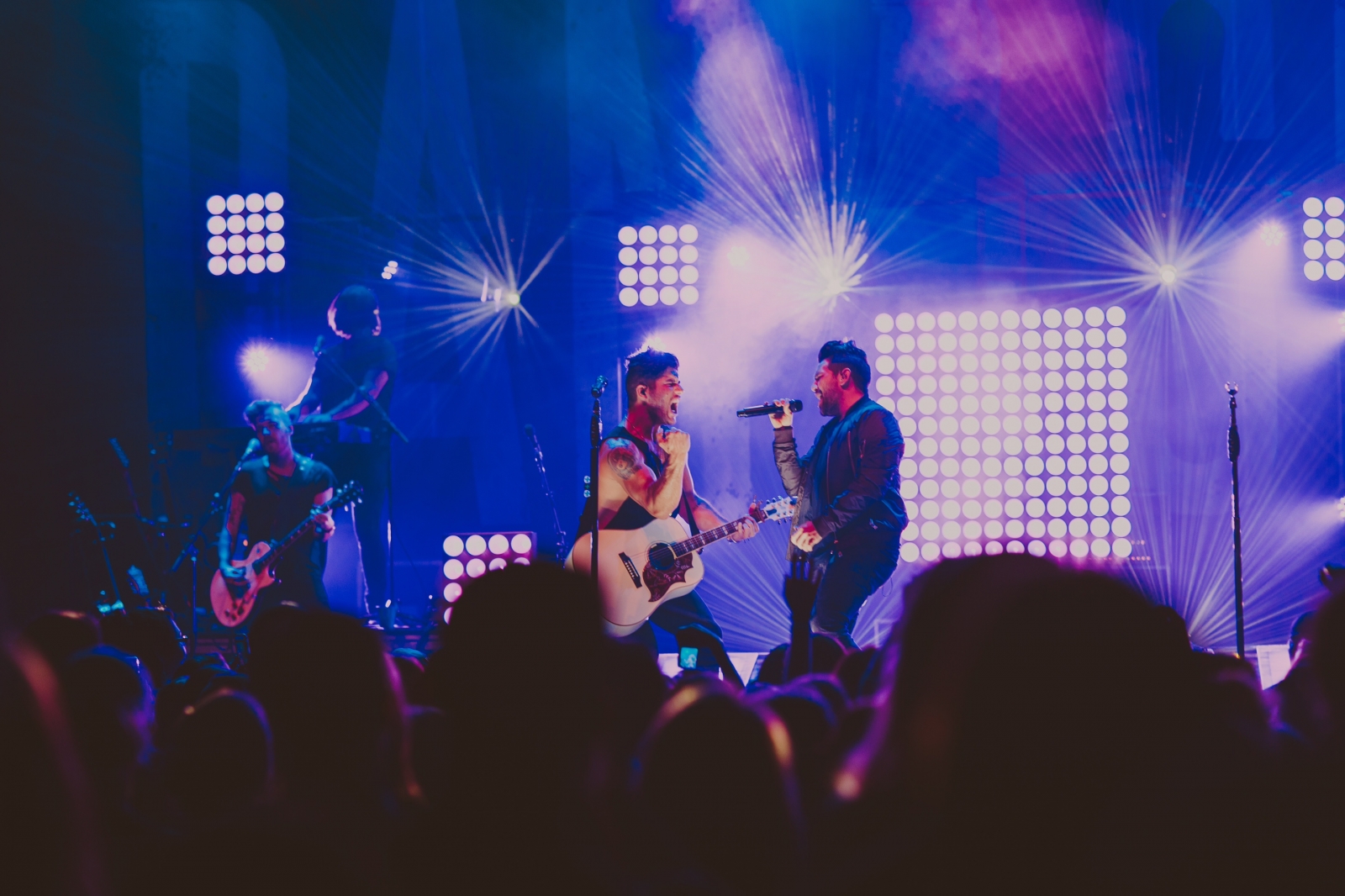 Nashville, TN- For country music duo Dan + Shay, the 2015 year has already been incredibly successful. Their first album, Where It All Began, has produced three top 40 singles on the Hot Country Songs chart, leading to a nationwide headlining tour featuring a lighting design by LD Taylor Price.
Price is no stranger to country music, as he currently serves as LD for other chart toppers such as Hunter Hayes and Sam Hunt. Price first ran into Dan + Shay when they were a support act for Hayes last year.
"As with many up and coming artists, they didn't have their own Lighting Designer yet," said Price. "I jumped in and did a little programming for them."
Price' programming was obviously a hit. When it was time for the duo to head out on their own headlining tour, Tour Manager Chase Bennett called upon Price for a lighting package. Price in turn called upon 4Wall Nashville to be his lighting equipment provider.
"The gear from 4Wall is always new, clean, and well packaged," said Price.
When facing challenges typical of any growing act, such as budget and trailer weight, Price gets creative when putting together designs that may need to fit in a trailer pulled behind the bus rather than a full semi.
"It's important to trim weight and space wherever we can. The first thing I like to do is select some smaller, low power fixtures that can be plugged into house provided power or audio power. This eliminates the need for feeder and power distros."
For the fall tour run of Dan + Shay, Price went entirely LED, using Chauvet Nexus LED Panels and Martin MAC Quantum Profiles amongst others. "4Wall put together a demo of the Quantum Profile for me and this was one fixture I was really impressed with. Tour Manager Chase Bennett joined me for the demo and we both knew we wanted to incorporate this into the new design."
The Nexus 4X4 panels would serve as a central element in the design, with the LD using nine of the fixtures to recreate the band's signature plus sign logo. Eight more of the fixtures were spread around the stage as single fixtures to achieve a bigger look for the larger venues Dan + Shay would be entering this fall.
Price also added GLP Impression X4S units for their compact size and punch. Twelve of the fixtures were scattered around the rig to serve as backlighting as well as eye candy.
The LD was pleased with the quality of all the gear provided by 4Wall, as well as the service.
"My experience has been nothing short of exceptional. The shop team has been excellent, and Cathie Berbena Lloyd and Jennifer Moore are my go-to sales team. They go above and beyond every time. They understand every part of the gig, from the design to the gear, logistics, and crew. There are a lot of companies in Nashville with equipment, but the attention to detail that these two ladies and their team provide make it a no brainer to come to 4Wall," said Price.
In the end Price created a rig that provides an amazing backdrop for Dan + Shay's jam-packed shows this fall, while still fitting into the trailer. "The venues are always a factor," says Price, "but with a little creativity, you can always pull something great together."
For more information on Dan + Shay, visit their official site.