About Us
Press Center
International Star Dariush Lit by Najafi Design and 4Wall LA
By on Aug 7, 2013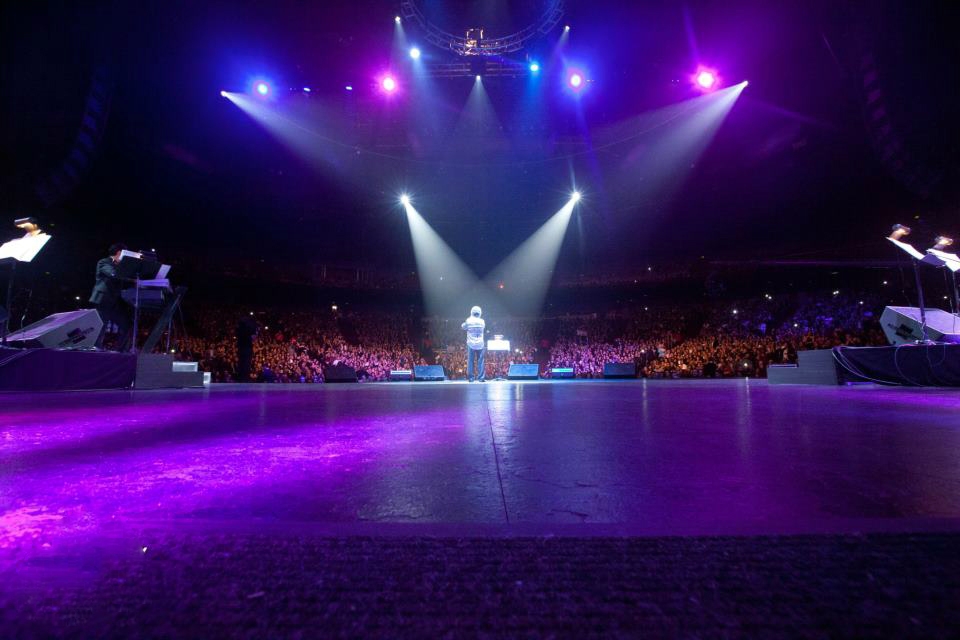 Los Angeles, CA- Iranian pop singer Dariush recently returned to the USA and the Gibson Amphitheater; playing his internationally acclaimed hits to a sold out Hollywood crowd. 4Wall LA was chosen to provide equipment for the event, which featured lighting design by Sohail e. Najafi of Najafi Design.
"We sought to increase the specificity of the lighting design through pre-programmed cues that were motivated by the music and lyrics," said Najafi, "rather than creating beautiful looks to transition between moments."
Najafi brought his aspirations for the show to 4Wall LA, where he was able to find the equipment he needed within his budget- including the brand new Martin MAC Viper Profile. Najafi completed his final programming notes and adjustments inside 4Wall, using 4Wall LA's offices for pre-visualization work on the grandMA2 visualizer. Meanwhile, his Master Electrician Kyle Rees staged the show rig inside 4Wall's prep area. Attention to detail was a must, as Najafi and his team took the show directly from pre-viz to a live audience.
"We created the design blind and without the benefit of technical rehearsals. We loaded in the same day and we saw everything for the first time when the concert started and I called the show. This scenario was another result of the expectations of this specific market" said Najafi.
Working through all of this, Najafi was able to deliver a design that differentiated this performance from others of its type. Over 6,000 people enjoyed the musical talents of Dariush during the performance, while seeing him literally in a completely new light. Najafi was grateful to 4Wall LA for the assistance they provided.
"The team at 4Wall matched and exceeded my expectations. My point person, VP of Business Development Ron Simms, and their Operations Manager Tommy Green, worked with me to keep the price competitive while getting me the equipment I needed. They offered space for our pre-visualization, and everyone was easily reached throughout the process. They definitely won over this designer!"
Joining Najafi and Rees on the production team were Associate LD / Progammer Joshua Cuellar and Assistant LD Eric A. Mitchell. For more info on Sohail e. Najafi, visit www.najafidesign.com
Selected Gear List: Dariush: Live in Los Angeles
12 Martin MAC Viper Profile
12 Martin MAC Aura
27 Martin MAC 101
12 Martin MAC 2000 Wash
12 Clay Paky Sharpy
12 Chroma-Q Color Force 72
12 Chroma-Q Color Force 12
1 MA Lighting grandMA2 Console