About Us
Press Center
UVLD's Greg Cohen Chooses 4Wall for Fantasy Combine
By on Oct 7, 2015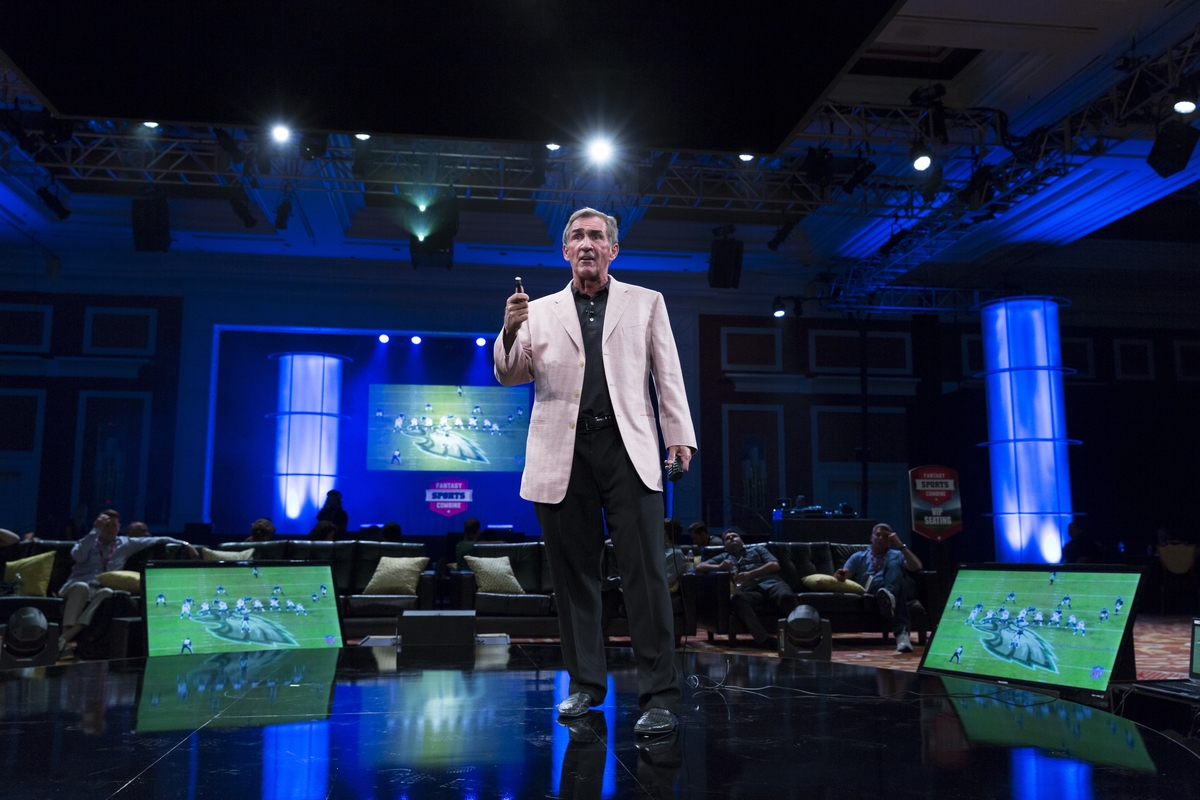 Las Vegas, NV- With nearly 75 million people playing fantasy football this season, there can be no doubt that the fantasy sports industry has never been hotter. With that explosive growth in mind, the Fantasy Sports Combine launched this year as the first conference of its kind to bring fantasy experts, world class athletes, and legendary coaches together under one roof.

Tasked with lighting this inaugural event was Greg Cohen of Unlimited Visibility Lighting Design (UVLD). Cohen called upon 4Wall Las Vegas as his equipment provider.

"The Fantasy Combine was a new project, and the team wanted a certain amount of visual 'wow' factor when you walked into the room," said Cohen. "They wanted to identify the space as both exciting & vibrant while also emphasizing that there would be real information presented by real experts. As the show was taking in place in Las Vegas, I knew from the start I wanted to involve 4Wall."

The La Tour Ballroom at Bellagio Hotel was the Vegas venue in use, with two distinct stages setup within the space. One stage was a traditional proscenium stage, while the other was situated in the middle of the room. Formal presentations would be given on the traditional stage, while Q&A's featuring big name talent took place in the middle of the room. The setup forced Cohen to split resources between the two areas, and as such the Designer turned to versatile MAC Auras as one of the staples of his design, which would need to be camera friendly at every angle.

"I knew house lights would be in place, so I wasn't trying to augment the general luminosity of the room. I opted for the Auras because I find them to be a very inviting LED fixture. There's something about the glass bubble that differentiates it from other LEDs, and the quality of the light is great."

The veteran Designer also added Clay Paky Sharpy and Sharpy Wash units in key areas.

"The Sharpies allowed us to create a little visual excitement, despite spreading them out to ten or twelve foot centers, they still looked great," said Cohen. "The Sharpy Washes were able to be placed just high enough that we could get a nice, smooth, flat feel for the downlight, and that was great."

An overnight load-in was not a concern for Cohen, as he knew the crew, as well as 4Wall, would be up to the task.

"It's a unique and excellent labor force that exists in Las Vegas, both with the IATSE Local 720 as well as 4Wall. I knew if we had a problem we could count on 4Wall's 24 hour support to provide the necessary equipment & infrastructure we needed anytime," said Cohen.

While Cohen himself may not be a Fantasy Sports aficionado, he does know a successfully lit event when he sees one. He also appreciates exceptional customer service from his gear provider.

"This was a new client, and although the Producers were experienced, it was a new production organization. Bob Gaynor of 4Wall walked them through the various insurance requirements and other items in a way that was just outstanding."

The Fantasy Sports Combine is set to return in 2016. Visit www.fantasysportscombine.com for more information.

For more info on Greg Cohen and UVLD, visit their official site.