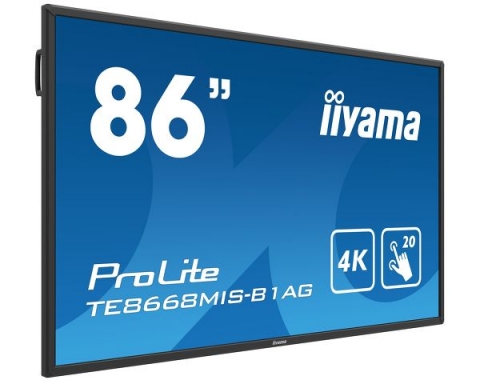 86 Inch Ilyama Prolite Touchscreen
Details
Description
The TE8668MIS-B1AG is a great display for corporate and event use. Its 86" infrared 20-point touchscreen with integrated interactive Note writing software allows users to make annotations on files opened directly from a USB device or internal memory. The display also supports playback of presentations, high-resolution video and almost any other type of content stored on a USB device or internal memory. The high-quality commercial IPS LCD screen with a 4K USD resolution (3840 x 2160 - 8.3 megapixel) and a contrast ratio of 1200:1 guarantees stunning images with superb image quality.
The anti-glare coating drastically reduces ambient reflection in high brightness environments without compromising the sharpness and clarity of the image. The screen has a 24/7 non-stop operating time and is equipped with 4 mm thick glass to ensure a long durability in high-use environments such as class rooms or meeting rooms. Unlike interactive whiteboards, there are no shadows or reductions in image performance to contend with.
We ensure our equipment is maintained to the highest standard, ready for your next event. Our experienced team of account managers, project managers and technicians are ready and waiting to help you create the perfect video and lighting experience.
Downloads
Features
Screen size: 1988.5 x 1161 x 100.5mm
Resolution: 3840 x 2160
Aspect ratio: 16:9
Weight: 76kg
Power consumption: 410W
Brightness: 375 cd/m²
Inputs: 3xHDMI, USB