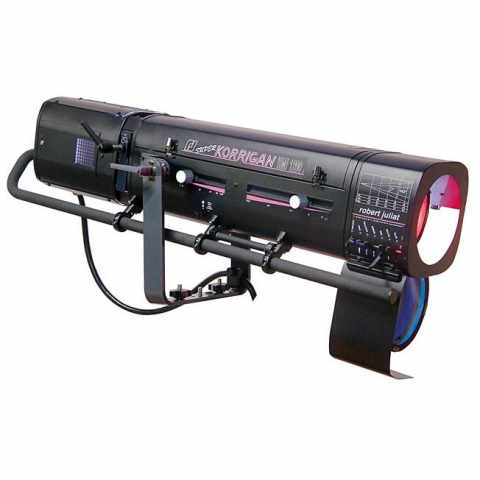 Details
Description
The Korrigan offers a light output which out-performs Xenon followspots of higher wattage, along with the ergonomic features which makes Robert Juliat the followspots of choice.
Used widely in theatre environments where the combination of a high output, instantaneous re-ignition and compact dimensions is a real advantage, these units are also benefit from silent magnetic PSU.
These models offer the option of DMX dimming control for perfect synchronisation of fades and blackouts.
We ensure our equipment is maintained to the highest standard, ready for your next event. Our experienced team of account managers, project managers and technicians are ready and waiting to help you create the perfect video and lighting experience.
Downloads
Features
Silent hot restrike ignition.
Compact and efficient design.
High performance condenser optical system.
100% closing iris with backplate follower in a removable cassette.
100% closing mechanical dimmer.
"B" size movable gobo holder on slide changer.
6 way manual colour changer with boomerang system fitted with removable filter frames.
Soft glass on flip lever.
Internal slots for dichroic filter 120 x 120mm.
Large ergonomic handles.
Heavy duty adjustable yoke.
Output for front scroller with mains breaker.
Option : Colour changer with push/pull system.
Option : 5500 -> 3400K conversion filter on flip lever.
Option : Heavy duty adjustable yoke (overhead use)